Cyrraedd yma / Getting Here
Map
Directions
By Train
Get a train to Newport (South Wales) station - NOT Newbridge. There will be regular shuttles running from Newport station to the site, taking approximately 20-30 minutes.
By Car or Minibus
From the south - follow the M4 towards Newport, turning off at junction 27. Head north on the A467, carrying on at Crosskeys roundabout. The road will lead you all the way to Crumlin.
From the North and the Midlands - follow the M50 onto the A449 towards Newport. Turn off at the junction leading to the A472. This road will lead you through Pontypool, over to Crumlin.
At the roundabout where you'd come off for Newbridge, DISREGARD THE SATNAV!. Carry on north to the B4251 and travel SOUTH down Melin Pl. Follow the pink signs directing you to site, to avoid the very steep hill!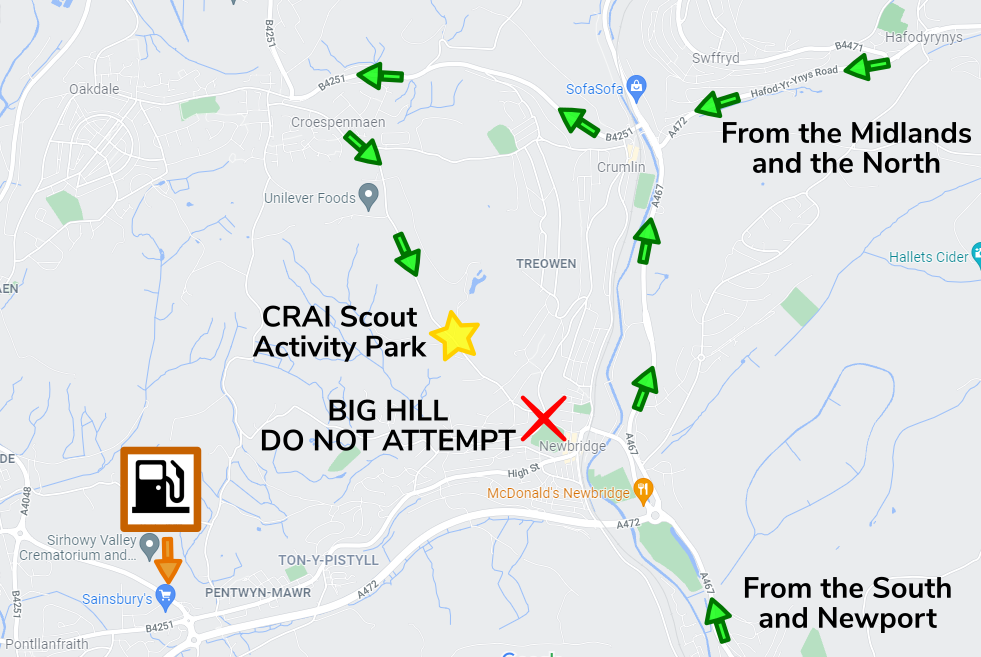 By Coach
There are regular National Express Coaches that run and stop in Newport although we won't be running shuttles from it. If you plan to arrive this way contact us so we can arrange pickup.
By SSAGO Bus
Once again, Exec are organising travel to Rali from far-away regions of the UK, in this case the North. If this is of interest or use to your club, please see ssagobus.ssago.org for more information. Please be aware this is being organised by National Exec and NOT the Rali Cymru committee; any issues must be directed towards the Exec..
By Dragon
Dragon parking is limited so make sure to get here early! Fly west towards Wales; when you reach the border start looking for our flag. If you reach the sea you've gone too far.
NOTE: Please ensure you have all the food and equipment needed for the welfare and safety of your dragon. The Rali Cymru committee take no responsibility for lost or stolen dragons throughout the during of the rali (excluding Splwt).
If you experience any issues in the booking process, please contact webmaster@ssago.org.